Kaisersesch / Baruth (Mark). "Floors For A Better Tomorrow" is now the new corporate slogan of the CLASSEN Group. It describes the company's established philosophy of the internationally leading manufacturer of healthy laminate floors and the material CERAMIN for PVC-free and recyclable plastic floors.
Mario David, Head of Marketing at the CLASSEN Group, describes what the company wants to emphasise with the slogan: "Since 1949, people all over the world have been fascinated by our high-quality designs and unique technologies for floor coverings that make life easier and more beautiful. At the same time, we are aware of our responsibility for the future. CLASSEN continues to develop every day in order to make its production even more efficient and sustainable and to create floor coverings that inspire today and do not burden future generations."
Sustainable laminate production
In Baruth / Mark, CLASSEN operates the largest laminate plant in the world. Production residues such as wood chips and wood dust are not disposed of externally, but are used to generate energy and heat in the company's own biomass energy plant, which is then fed back into production. This saves around 5,200 tonnes of CO₂ annually. To put this into perspective, this corresponds to the CO₂ footprint left by a single person flying 1,000 times from Germany to Australia and back on a passenger plane (source: Atmosfair).
The CLASSEN Group commissioned an expansion of this biomass energy plant in 2021. It reduces CO₂ emissions by more than 7,000 tonnes per year, as it allows the fossil fuel natural gas to be almost completely dispensed with. CLASSEN invested around 35 million euros in the new energy plant. The construction was funded with 10 million euros by the development bank of the German Kreditanstalt für Wiederaufbau (KfW). This funding amount is the largest KfW funding sum ever approved in the field of energy supply for companies.
The hot gases from the biomass plant are used to dry the wood fibres produced in the production process. The exhaust air stream from the dryer is cleaned with a bioscrubber and a wet electrostatic precipitator. The resulting water is then biologically purified in an aeration basin and fed back into the production process. A good 3 billion thermophilic bacteria live in the aeration tank and are able to break down the substances separated from the exhaust air stream. In addition, a heat recovery system was installed that feeds the heat from the aeration tank back into the production process as energy. This saves around 3,300 tonnes of CO₂ annually.
When purchasing wood, CLASSEN also ensures that only wood from sustainable forest areas certified according to FSC® (FSC C100583) and PEFC (PEFC/04-31-0824) enters the plant.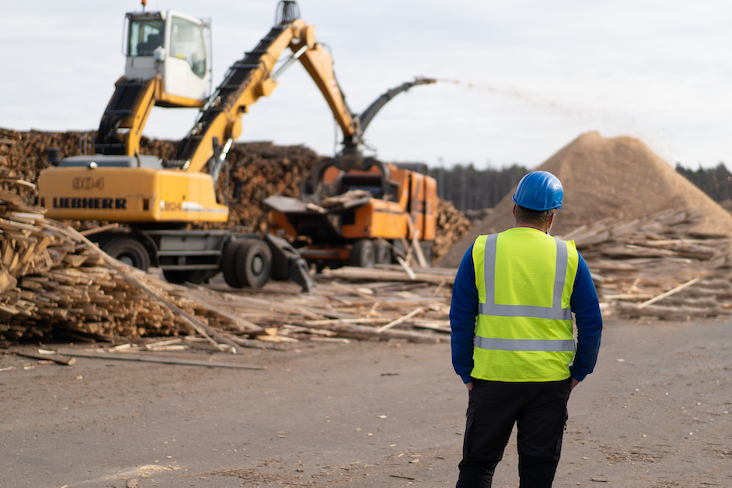 CLASSEN closes the recyclable material loop for plastic floors
Since 2011, CLASSEN in Kaisersesch (Rhineland-Palatinate) has been developing and producing the patented material CERAMIN for coreboards for design and vinyl floors. CLASSEN uses only green electricity from hydropower for production. CERAMIN uses recycled polypropylene (PP) as a secondary raw material. By means of upcycling, former food packaging made of PP, for example, becomes a high-quality raw material again. The PP is combined with mineral fillers and pressed into CERAMIN. CLASSEN is thus a pioneer in the production of design/vinyl flooring that is emission-free, 100 percent recyclable and absolutely free of PVC and any plasticisers. Vinyl floors with CERAMIN from CLASSEN are therefore the first on the market to be awarded the "Blue Angel" environmental seal.
In April 2021, CLASSEN, together with Hündgen Entsorgungs GmbH & Co. KG, an operator of recyclables sorting plants, founded the joint venture HC Plastics. Under the motto "Recycling meets Industry - Industry meets Recycling", they are working together to extend the life cycle of collected plastic soils so that they can be reused without any problems.
CLASSEN is already a pioneer in its sector in the implementation of the European Union's "Strategy of Plastics", which calls for product design that ensures subsequent reuse through the functioning collection and recycling of waste. CLASSEN is also a member of the EU's Circular Plastic Alliance, which aims to use ten million tonnes of already recycled plastics by 2025. Today, CLASSEN already uses 13,000 tonnes of such recyclates per year and plans to double this figure before the end of 2022.
Further information on environmental and energy management at CLASSEN can be found here: https://classengroup.com/de/unsere-dna/umwelt/
Vous pouvez télécharger ici les images correspondantes et les utiliser librement : Download Image Material