Baruth. CLASSEN, one of the world's leading manufacturers of laminate flooring, enters 2022 with the completely newly developed laminate collection SENSA. The CLASSEN team calls it Laminate NXT because it sets new standards in design, technology and sustainability. Dr. Hans-Jürgen Hannig, CEO and Founder of CLASSEN Group: "CLASSEN's philosophy for many years is to produce high-quality laminate flooring, creating feel-good design, using the latest technologies with the sustainable needs of people and our planet. With SENSA we are going one step further now. Our specialists created Laminate NXT. Designed for the life of today and for the demands of tomorrow."
With the motto "SENSA for all", CLASSEN is now distributing the three product lines Lifestyle, Skyline and Mood, which are designed to meet the demanding requirements of all customers. These are some key features about SENSA.
New 8mm LEAN CORE technology which reduces material and protects nature.
24 hr protection against water ingress as a result of new Megaloc Aqua Protect fold-down installation system.
Anti-bacterial surface with guaranteed protection against bacteria according to ISO 22196.
Anti-Scratch and anti-static surface as a result of LLT technology.
Extraordinary decors and synchronised textures for authentic look and feel with 4-sided bevel.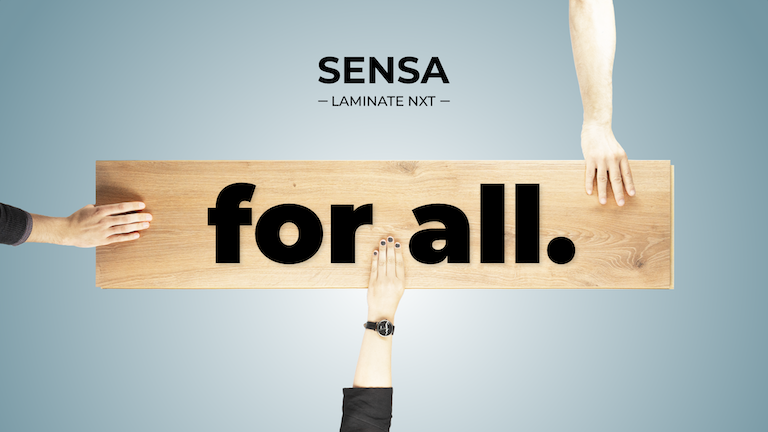 8mm for all
SENSA is 8 millimetres thick and not 10 or 12 millimetres like other laminate planks. If all existing 12 millimetres laminate products in the world would change to 8 millimetres, this would save a forest area in the size of 9.200 km². That is as big as Cyprus.
With a thickness of 8 millimetres CLASSEN maximises the reduction of waste and the reduction on formaldehyde, furthermore precisely determines the raw materials needed, without compromising the quality.
SENSA with 8 millimetres has the benefits of less drum sound, better accoustics, better sound transmissions and has an ideal renovation thickness, too. LEAN CORE means less weight and less carrying for customers, it means reduced unwrapping and less packaging waste. And it means less traffic and less CO₂ emissions in global transportation. For example: The weight of 20 m² SENSA is 136 kg, the weight of 20 m² laminate with 12 millimetres is 208 kg. That's a difference of four crates of water per single room.
Easy living for all
The SENSA boards contain CLASSEN's new Megaloc Aqua Protect, the world's first quick fold-down installation system which is 24-hour water resistant. The results in NALFA test are excellent: The Megaloc Aqua Protect system enables protection against edge swelling and ensures a durable floor. Daily use, cleaning and splash situations can consequently no longer damage laminate floor. The detailed results you can find here:
Healthy living for all
Floors in particular come into contact with many bacteria and can thus be the source of serious illnesses in the home and in public spaces. But the surface of SENSA laminate boards has a strong antibacterial effect. The development team at CLASSEN commissioned the independent testing institute of Hohenstein Laboratories to check this special feature. As a result, SENSA laminate received the official "Antibacterial" certificate according to ISO 22196 (measurement of antibacterial activity on plastic surfaces).
Sustainability for all
SENSA is produced in the largest integrated laminate floor production plant worldwide in Baruth / Mark (Brandenburg, Germany). There, CLASSEN generates its own energy and set itself the goal of soon producing completely CO₂ -neutral. The company recently has commissioned a new biomass plant to generate process heat for laminate production. The new plant reduces CO₂ emissions by nearly 8.000 tonnes per year. For comparison: 8.000 tonnes of CO₂ emissions are produced by a passenger aircraft flying from Munich to New York and back two thousand times.
All production waste such as chips or broken boards can now be used as combustible in the power plant instead of disposing it externally. In addition, a new mill was installed to process previously unused dust from production and feed it back into production.
The CLASSEN Group has its sustainable energy management certified annually by independent experts. The corresponding certificates confirm that CLASSEN is continuously improving its energy efficiency in accordance with DIN EN ISO 50001:2018.
Für sein Laminat wählt CLASSEN sorgfältig nur Holz aus Wäldern aus, die den Vorschriften für nachhaltige Forstwirtschaft und den strengsten europäischen Standards entsprechen. Das Holz stammt ausschließlich aus kontrollierten Beständen, weshalb SENSA mit den Labels von FSC® (FSC C100583) und PEFC (PEFC/04-31-0824) ausgezeichnet ist. Außerdem trägt SENSA das renommierte Umweltzeichen "Blauer Engel" der deutschen Bundesregierung.
Design for all
The SENSA collection contains three product lines with different looks and feels.
The Lifestyle line consists of 14 minimalist decors with smooth surfaces that are pleasantly easy to clean, resistant and robust. The 16 Skyline decors are classic and unobtrusive. The surfaces are matt with an elegant structure surface. The Mood line contains 8 special vintage-style decors with surfaces that are tangibly inspired by nature. This line is suited to sophisticated living spaces, shops, offices, bistros and restaurants.
All laminate planks measure 1285 × 192 × 8 mm (50 19/32 × 7 9/16 × 5/16 inch), in addition the Skyline decors are also available as Skyline XL with dimensions of 1285 × 280 × 8 mm (50 19/32 × 7 9/16 × 5/16 inch).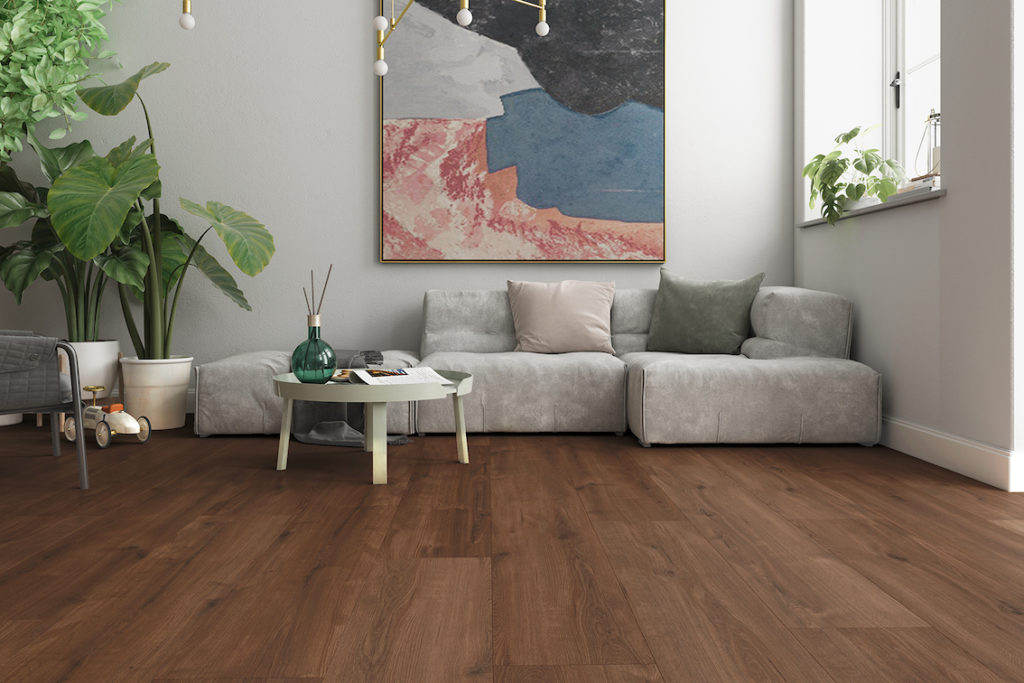 See more about SENSA collection here: http://sensa-flooring.com/
You can download suitable image material here and use it freely: Bildmaterial